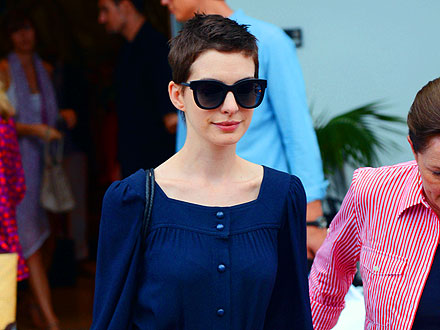 No need to purloin pearls and diamonds like her Dark Knight Rises alter ego, Catwoman – Anne Hathaway's Friday shopping spree in Miami was entirely on the up-and-up.
Still sporting her super-short haircut for her role in the upcoming movie adaptation of Les Miserables, she indulged herself at the luxe South Beach boutique The Webster, where she bought a cardigan sweater and her very first Azzedine Alaïa dress. The actress, 29, was accompanied by her lovey-dovey fiancé Adam Shulman, legendary fashion designer Valentino, and polo player Nacho Figueras and his wife Delfina Balquier.
The night before, the group had been out celebrating Valentino's surprise 80th birthday at The Setai South Beach Hotel. Hathaway's plus-one that night was her mom, Kate McCauley Hathaway – part of an early Mother's Day gift, according to a New York Post report. Definitely good-girl behavior.
– Becky Randel and Michael Y. Park